The following is a paid advertisement. The Manitoba Psychological Society does not necessarily endorse any service or educational opportunity advertised.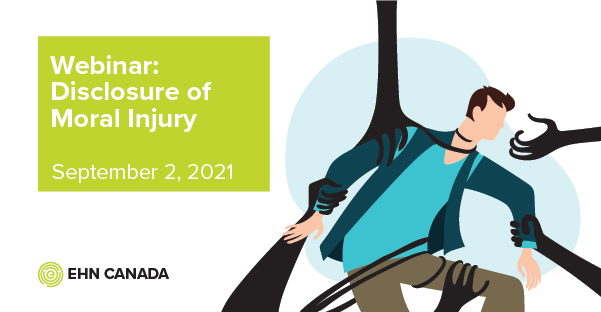 You're invited for EHN Canada's next educational webinar:
Disclosure of Moral Injury
With Dr. Anthony Nazarov, PhD, PMP
Associate Scientific Director, MacDonald Franklin OSI Research Centre
Allied Scientist, Lawson Health Research Institute
Adjunct Research Professor, Department of Psychiatry, Western University
Adjunct Clinical Assistant Professor, Department of Psychiatry and Behavioural Neurosciences, McMaster University
Moral injury results from a single or repeated transgressions of an individual's deeply held moral beliefs and expectations. This can be due to actions that a person performs, witnesses, or fails to prevent, often in connection with one's professional duty. The consequence for this conflict in moral standards is lasting psychological, social, and spiritual harm. In this webinar, Dr. Anthony Nazarov, a Clinical Neuroscientist and Allied Scientist at the Lawson Health Research Institute and the MacDonald Franklin Operational Stress Injury (OSI) Research Centre, will share his insight and expertise on this topic. Gain a deeper understanding of moral injury and its impact on mental health, and explore current research into help-seeking behaviours as well as treatment and prevention strategies.
LEARNING OBJECTIVES:
Explore the current understanding of moral injury
Summarize the research landscape on moral injury and its impact on mental health
Identify gaps in theory, treatment, and prevention
Future directions
Date: Sept 2, 2021 – 12pm EST, 9am PST
Cost: COMPLIMENTARY
This webinar provides 1.0 CEU/CPD credits recognized by:
CACCF (Canadian Addiction Counsellors Certification Federation)
CCPA (Canadian Counselling and Psychotherapy Association)
MDPAC (Medical Psychotherapy Association Canada)
CVRP (College of Vocational Rehabilitation Professionals)
To learn more or register, click the link below:
https://ehncanada.zoom.us/webinar/register/9016295115461/WN_G7ZyMRMbQLKd3ydQrYrZXw
Sincerely,
EHN Canadawww.ehncanada.com