The following is a paid advertisement. The Manitoba Psychological Society does not necessarily endorse any service or educational opportunity advertised.
You're invited for EHN Canada's next educational webinar: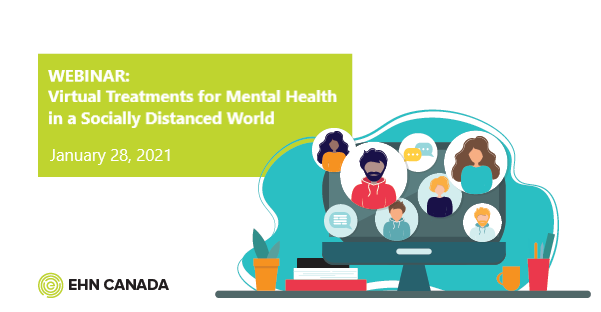 Not Created Equal: Virtual Treatments for Mental Health in a Socially Distanced World
With Lanie Schachter-Snipper, Registered Psychotherapist, National Director of Outpatient Services, EHN Canada
And Rochelle Hildebrand, National Director of Operations, Outpatient Services, EHN Canada
The last year has been unlike any other. The pandemic has put a spotlight on the importance of health and wellness in an increasingly socially distanced world. Although in-person support is not currently available, there has been huge growth in digital mental health apps and treatment platforms. While it is encouraging to see more accessible help being offered to those struggling with mental health and addiction, how much do we know about these programs? In a sea of options, it can be difficult to understand the differences between virtual offerings, and the benefits and drawbacks of each. Join our outpatient leadership team as they explore and compare the available online program options, and discuss why effective treatment is the key to optimal outcomes.
The learning points for this session include:
Types of virtual treatment available for mental health and addiction – similarities and differences
Effectiveness of virtual treatment compared with in-person therapy
Overview of Intensive Outpatient Programs (IOPs) – who they're for, what they treat, and how they work
Webinar Info:
Date: Thursday, January 28, 2021
Time: Noon-1pm EST, 9-10am PST
Cost: COMPLIMENTARY
This webinar provides 1.0 CEU credits recognized by the CACCF (Canadian Addiction Counsellors Certification Federation).
To learn more or register, click the link below:
https://ehncanada.zoom.us/webinar/register/5716103410630/WN_oDdAlS6mSFuHoiex-BAq9w
Sincerely,
EHN Canada