The following is a paid advertisement. The Manitoba Psychological Society does not necessarily endorse any service or educational opportunity advertised.
You're invited for EHN Canada's next educational webinar: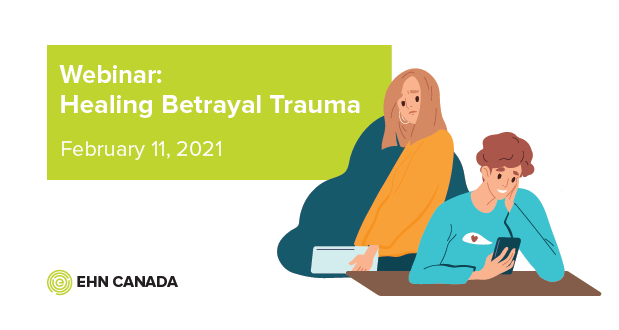 Healing Betrayal Trauma
With Mike Quarress MA CCAC RCC CSAT, Certified Sex Addiction Therapist, Edgewood Treatment Centre
Relationships are built on the expectation of reciprocal trust and honesty. Finding out that someone you love is not who you thought they were, uncovering lies and secrets, discovering repeated infidelities, ongoing suspicion and conflict – these all lead to a sense of betrayal. For the betrayed partner, such a traumatic experience can have deep psychological and emotional consequences that change the nature of a relationship.  That's why for someone seeking treatment for sex addiction, while their individual recovery work is important, the healing of the partner and the relationship also needs dedicated attention. A couple can learn to support each other's recovery from their traumas and establish a new bond that is supportive, healthy, and loving.
The learning points for this webinar include:
Reviewing the 13 dimensions of betrayal trauma experienced by partners of those struggling with compulsive sexual behaviour
Understanding betrayal trauma treatment principles
Coping strategies and ways in which couples can regain trust and intimacy
Webinar Info:
Date: Thursday, February 11, 2021
Time: Noon-1pm EST, 9-10am PST
Cost: COMPLIMENTARY 
This webinar provides 1.0 CEU credits recognized by:
CACCF (Canadian Addiction Counsellors Certification Federation)
CCPA (Canadian Counselling and Psychotherapy Association)
CVRP (College of Vocational Rehabilitation Professionals)
To learn more or register, click the link below:
https://ehncanada.zoom.us/webinar/register/8116116304187/WN_Q9G-Z1KWQBWsY64IOmFWeg
Sincerely,
EHN Canada
bdreply@ehncanada.com
www.ehncanada.com