The following is a paid advertisement. The Manitoba Psychological Society does not necessarily endorse any service or educational opportunity advertised.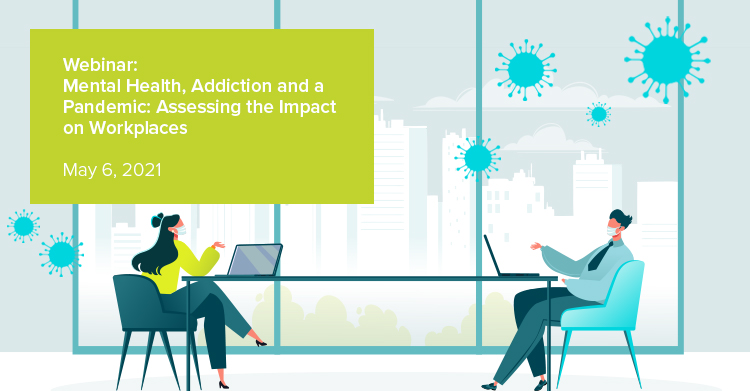 You're invited for our next educational webinar:
Mental Health, Addiction, and a Pandemic: Assessing the Impact on Workplaces
With Lanie Schachter-Snipper, Registered Psychotherapist, National Director of Outpatient Services, EHN Canada
The presentation aims to focus on how the COVID-19 pandemic has potentially affected employees' struggles with mental health and addiction. It's over a year into the pandemic and workplaces have had to make significant adjustments time and again to accommodate for safety precautions. While many have adapted well, we know that the continued uncertainty and stress of the current global situation is having a negative impact on mental health. Morneau Shepell's February report of their Mental Health Index™ shows that the psychological health risk score of Canadians is 3.3 points lower than pre-pandemic. "Further, depression (-13.9), optimism (-12.7) and work productivity (-12.3) scores have all fallen since the prior month." Knowing these stark figures, we will take a closer look at how the pandemic has impacted the workplace in relation to mental health and addiction. This session will also highlight how organizational leaders can help by recognizing the warning signs, and understanding the range of treatment options that are available depending on the severity of symptoms.
The discussion points in this webinar include:
Impact of the pandemic on mental health and addiction
Understanding concerning signs and symptoms in the workplace
Recognizing mental health and addiction as diagnosable disabilities
Treatments available for different levels of symptom severity
Webinar Info:
Date: Thursday May 6th
Time: 11am-12pm CDT
Cost: COMPLIMENTARY
This webinar provides 1.0 CEU credits recognized by:
CACCF (Canadian Addiction Counsellors Certification Federation)
CCPA (Canadian Counselling and Psychotherapy Association)
CVRP (College of Vocational Rehabilitation Professionals)
To learn more or register, click the link below:
https://ehncanada.zoom.us/webinar/register/1716189760194/WN_9u7Ho2DaTY2DOrT4A_PXog
Sincerely,
Dr. Suanne Wong MBBS
EHN Canada
swong@ehncanada.com
www.ehncanada.com