The following is a paid advertisement. The Manitoba Psychological Society does not necessarily endorse any service or educational opportunity advertised.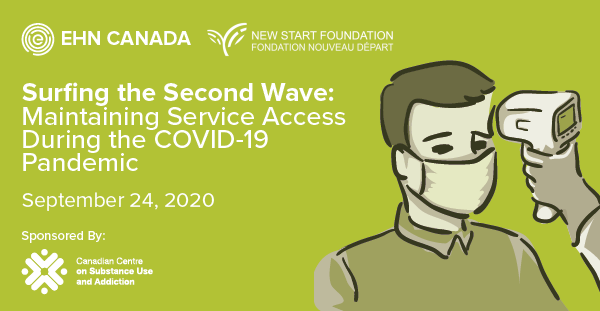 Join us on Sept 24th for a special webinar on mental health and addiction, hosted by EHN Canada and New Start Foundation.
Presented by the CCSA (Canadian Centre on Substance Use and Addiction)
Surfing the Second Wave: Maintaining Service Access During the COVID-19 Pandemic
COVID-19 has exposed some of our population's most vulnerable people, including those struggling with addiction and mental health. This webinar will feature an expert panel discussion on the implications that this pandemic has had on substance use services and supports. Our panelists will reflect on what measures and efforts were effective for their organizations during the first wave of the pandemic, and which were not, with the view to preparing for the likely second wave. The list of speakers will include representation from a number of healthcare sectors, including treatment, primary care, virtual care, shelters, and community support and harm reduction services.
Goals and Objectives:
Learning about what did and did not work well to ensure continuity in the provision of substance use services and supports during the first wave of the COVID-19 pandemic
Deriving valuable information on what preparations are in progress or can still be made for a potential second wave of the COVID-19 pandemic
DETAILS:
When: Thursday September 24th at Noon – 1:30pm EST
Duration: 1.5 hours
Cost: COMPLIMENTARY courtesy of the CCSA
This webinar provides CEU credits recognized by the CACCF (Canadian Addiction Counsellors Certification Federation).
Moderators:
Rita Notarandrea, Chief Executive Officer, the Canadian Centre on Substance Use and Addiction
Patrick Maubert, Social Work Student and Community Arts, Health and Wellness Facilitator
Panelists:
Dr. Erin Knight, physician leader in addiction medicine services in Manitoba, College of Family Physicians of Canada
Kimberley Korf-Uzan, Director, e-Mental Health & Special Projects, BC Mental Health & Substance Use Service
Anne M'Mithiaru, Director, Non-Residential Programs, Atira Women's Resource Society
Gilliana Soto, Supervisor, Atira Women's Resource Society
Adrienne Spafford, Chief Executive Officer, Addictions and Mental Health Ontario (AMHO)
To learn more or register, please visit:https://newstartwebinarseries.eventbrite.ca
If you have any questions about EHN Canada's programs or services in the meantime, feel free to reach out to our experienced team atreferrals@ehncanada.com
Sincerely,
EHN Canada
www.ehncanada.com