The following is a paid advertisement. The Manitoba Psychological Society does not necessarily endorse any service or educational opportunity advertised.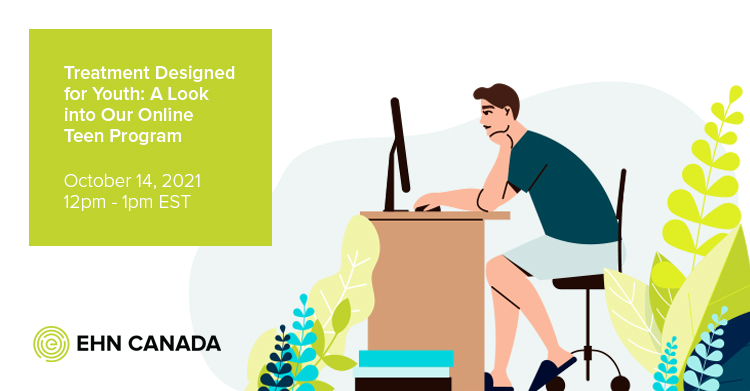 Treatment Designed for Youth: A Look into Our Online Teen Program
With Lanie Schachter-Snipper, Registered Psychotherapist, National Director of Outpatient Services, EHN Canada
And Dayna Browne, MSW, Clinical Lead for Healthy Minds Comprehensive Teen Program, EHN Outpatient Services
According to the Mental Health Commission of Canada, one in five, or 1.2 million, children and youth in Canada are affected by mental illness – yet, less than 20 per cent will receive appropriate treatment. With the clear and growing need to better support youth, EHN Canada is proud to launch the new Healthy Minds Comprehensive Teen Program. Offered virtually through EHN Outpatient Services, the Healthy Minds Teen Program is anticipated to be able to help up to 150 youth per year. Join us for an insightful webinar with clinical leaders Lanie Schachter-Snipper and Dayna Browne. They will share their passion for our virtual youth program, the approach that was taken to design effective teen-appropriate treatment, and why Healthy Minds is a unique and important offering now.
The discussion points for this webinar include:
Explore the convenience and ease of online treatment programs
Discuss important considerations in designing a teen-focused program
Understanding the key role that caregivers play in recovery
How aftercare supports ongoing success
Date: October 14, 2021 – 12pm ET, 9am PT
Duration: 45 minutes + 15 minutes Q&A discussion
Cost: COMPLIMENTARY
This webinar is eligible for 1.0 CEU credits recognized by:
CACCF (Canadian Addiction Counsellors Certification Federation)
CCPA (Canadian Counselling and Psychotherapy Association)
MDPAC (Medical Psychotherapy Association of Canada)
CVRP (College of Vocational Rehabilitation Professionals)
To register or for more information:
https://ehncanada.zoom.us/webinar/register/2416333649741/WN_9QMUWzxiSHO0djIu6ICtWA
Sincerely,
EHN Canada